The Office for National Statistics (ONS) has today released its projections for population in the UK over the next 100 years. They show a slowdown in anticipated population growth in comparison to the previous projections (issued in 2015) – but nevertheless anticipate a population of nearly 73m by 2041.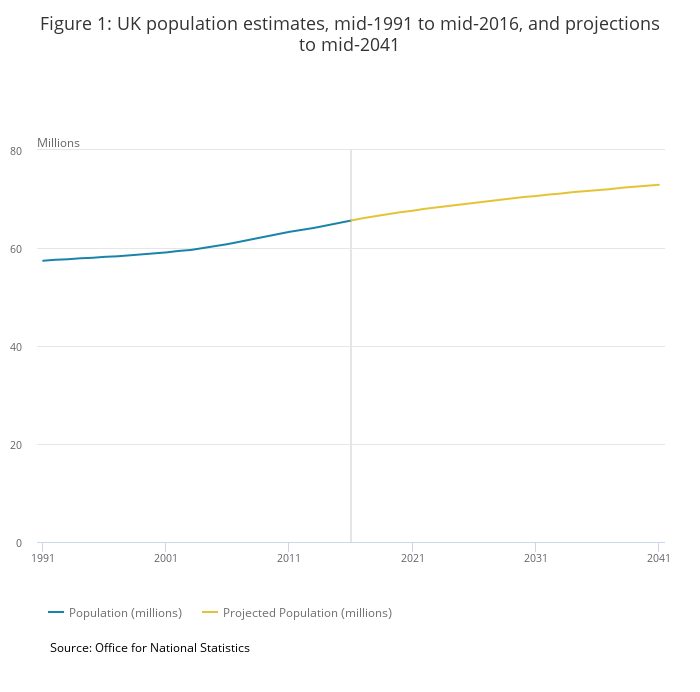 The rarely reported long term projection anticipates a population of 85 million in 2116 – 30 per cent more than the UK's population today. It also expects the population to still be growing in a century's time.
Revised projections
In today's National population projections: 2016-based, the ONS ascribes the lower projections to a number of factors, including reduced net immigration, lower than anticipated fertility and more modest increases in longevity than previously anticipated. Over the next 10 years, it expects 54 per cent of population growth in the UK to be caused by net migration and 46 per cent to be the result of "natural increase", ie a greater number of births than deaths.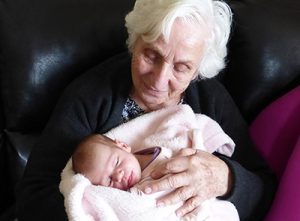 ONS estimates that in the ten years up to 2026:
7.7 million people will be born
6.1 million people will die
5.2 million people will immigrate long-term to the UK
3.2 million people will emigrate long-term from the UK
Population growth in the next 25 years will be lower than in the last 25 years: 7.3m until 2041, compared to 8.2m between 1991 and 2016.
Long term uncertainty
In addition to its "principal" projection, ONS produces "variant" projections, reflecting the effects of changes in the various factors underlying population, such as fertility rates and proportion of younger people (ie of childbearing age) in the overall population. For 2041, the highest projection among these is 77m people, the lowest is 67.3m. ONS has yet to publish the variant projections for 100 years but in 2014, the highest figure was 114m and the lowest 61m.
No end to growth
A key finding of the report, consistent with projections over the last 10 years, is that it foresees no peak in population growth. Before 2003, official projections expected the population of the UK to stop growing but since 2004, projections up to one-hundred years in advance have shown no peak.
In addition, the expected population at the end of the projection period has consistently increased. In 1981, projected peak was 4.1m above the then-population of 56 million (an increase of 7.3% over 60 years). In today's projections (which are based on 2016 population figures), there is no peak projected and the projected population in 2116 is, as noted above, 30 per cent more than current population.
Government response to population: "improvisations, bodges, and knee-jerk reactions"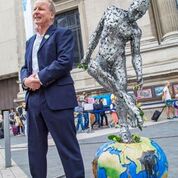 In a statement to the media, Population Matters director Robin Maynard said:
"The small reduction in expected population growth since the 2014-based projections is welcome but the population of the UK is unsustainable now: today's figures show that our environment, our infrastructure, and our public services will face mounting and unbearable pressure for at least another century. The absolute numbers are frightening enough but the underlying trend is even more alarming. The ONS expects our population to keep growing for at least a hundred years – in what is already one of the most densely populated countries in Europe. It's worth repeating: if the ONS is right, a child born today will know nothing but an ever-increasingly crowded country until the day they die.
"When you look at the huge range of variant projections for population growth in both short and long terms, it's clear that multiple factors contributing to population growth offer the government multiple levers to affect it. Despite this, in the face of an extra 20 million people or more by the next century, there is apparently no dedicated planning or policy response from central government. We must not accept that endless population growth is inevitable and that policy on demography should be an endless series of increasingly torturous improvisations, bodges and knee-jerk reactions. It is time to start talking openly and honestly about population. The stark message from these figures is that a proper, joined-up, strategic policy for sustainable population in the UK is needed now. In fact, it was needed a generation ago."
Sustainable population policy
Population Matters has proposed a Sustainable Population Policy for the UK, which takes a strategic approach to bringing population to sustainable levels. Learn more about the policy here.