A new report examining the impact of child marriage in Ethiopia has highlighted the many devastating impacts it has on individuals and society. More than one-in-three girls are married below the age of 18 in Ethiopia. Girls married young have larger families, increasing population growth as well as making it more difficult for their families to escape poverty.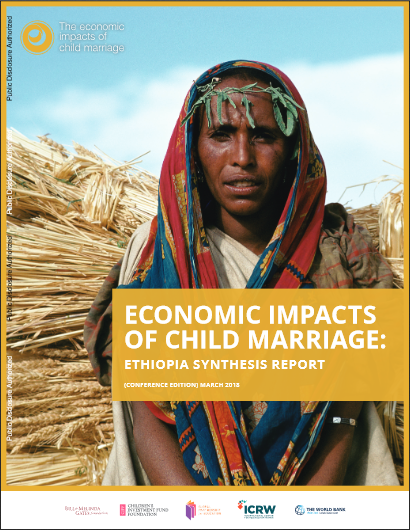 The report Economic Impacts of Child Marriage: Ethiopia Synthesis Report was published by the World Bank and the International Center for Research for Women, and partly funded by the Bill and Melinda Gates Foundation. It describes how child brides are "often robbed of their rights to safety and security, to health and education, and to make their own life choices and decisions".
As it does across the world, child marriage increases family size. According to Modern Diplomacy:
"In Ethiopia, about four out of five early childbirths (children born to a mother younger than 18) are attributed to child marriage. The report estimates that a girl marrying at 13 will have on average 24 percent more children over her lifetime than if she had married at age 18 or later. Ending child marriage could reduce total fertility rates by 13 percent nationally, leading to reductions in population growth over time."
The report estimates that higher GDP per capita from lower population growth could inject close to $5 billion into the Ethiopian economy by 2030.
The report's author, Quentin Wodon of the World Bank, said
"ending this practice is not only the morally right thing to do but also the economically smart thing to do."
The global picture
More than one-in-five girls are married below the age of 18, and 650m women worldwide were child brides. In Niger, the country with the world's highest fertility rates, three-quarters of girls are married under the age of 18. Campaigning organisation Girls Not Brides identifies that "at its heart, child marriage is rooted in gender inequality and the belief that girls and women are somehow inferior to boys and men."
Take action
You can support the campaigns of Girls Not Brides here. Population Matters also supports women's empowerment projects through our Empower to Plan crowdfunding portal.