Last Saturday, Population Matters joined ten thousand people from across the UK who flocked to London for a ground-breaking event: the biggest march for wildlife the country has ever seen. The People's Walk for Wildlife, organised by Population Matters patron Chris Packham, was a rallying cry to halt the precipitous decline in Britain's biodiversity.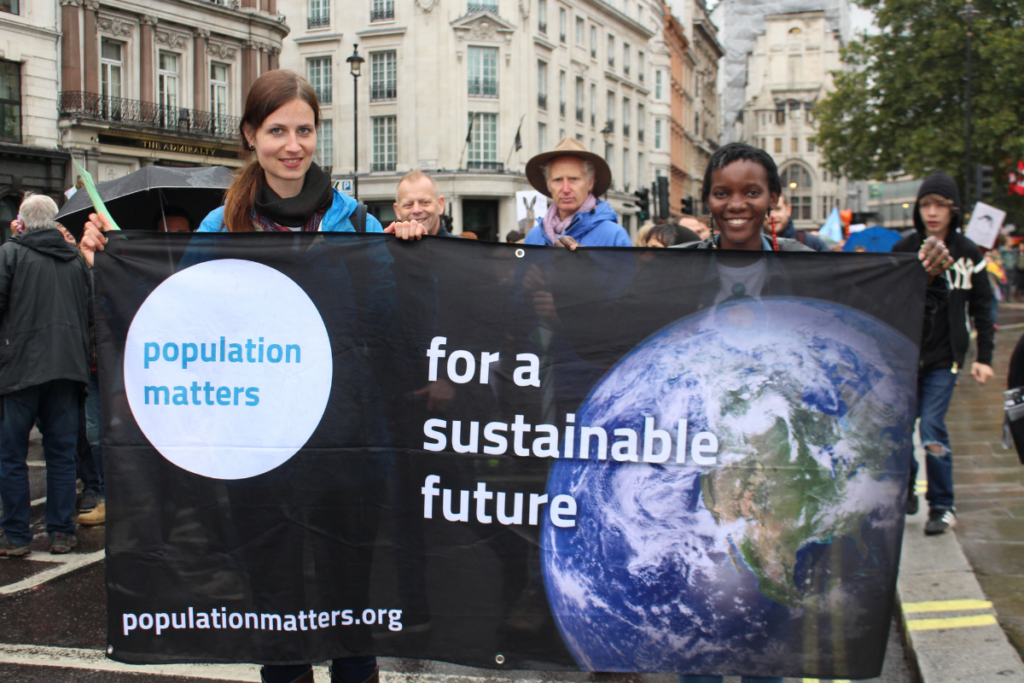 The missing millions
The UK is one of the most nature-depleted countries in the world, with wildlife populations plummeting faster than the global average. More than one in ten wildlife species are threatened with extinction and numbers of birds, mammals, reptiles, amphibians, and invertebrates are declining across the country. Depletion of wildlife has intensified in recent decades, largely driven by changes in agriculture and rapid habitat loss.
Whatever you wear, whoever you are, wildlife needs you #PeoplesWalkForWildlife pic.twitter.com/OHyz4QSaov
Chris Packham (@ChrisGPackham) September 22, 2018
The People's Walk for Wildlife was a momentous congregation of wildlife lovers who refuse to remain complacent over this ecological apocalypse. Despite the poor weather, people from all over the British Isles came together to march for "the missing millions".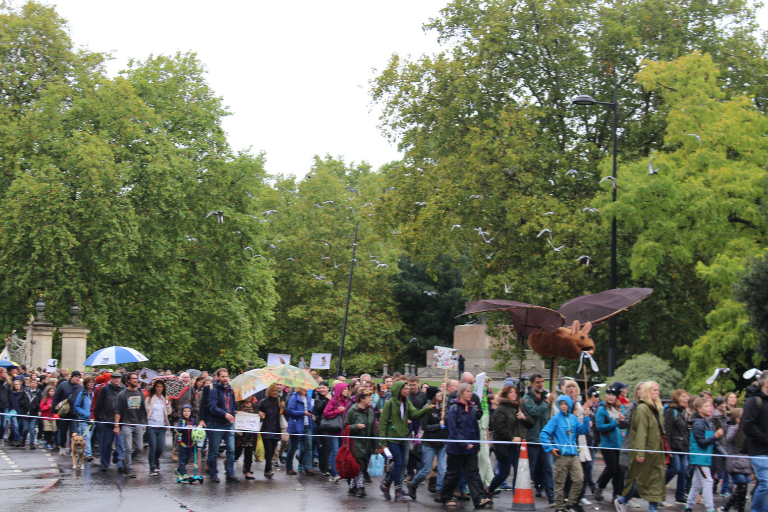 Highlighting population
Chris invited Population Matters to hold an information stall at the event and joined us for a photo opportunity with our mascot 'Bigfoot', highlighting the urgent need to address the effect of unsustainable human population growth on wildlife. Our staff and supporters engaged with a very receptive audience and our director Robin Maynard gave a short speech on the big screens.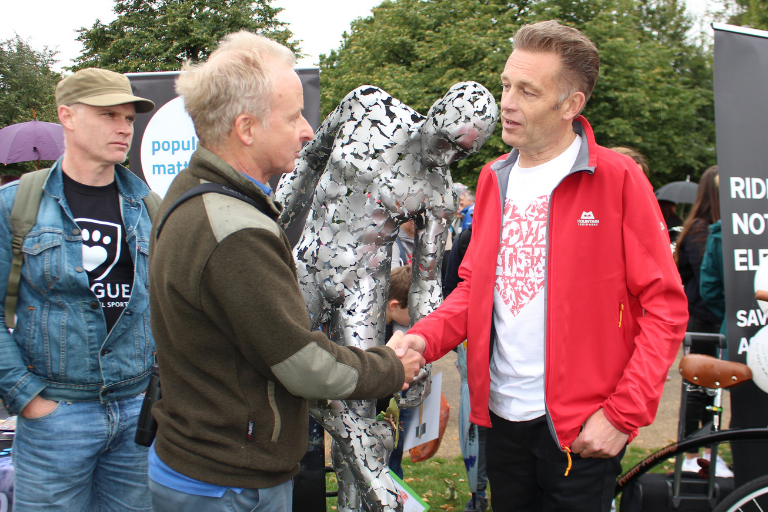 Young leaders
The crowd was treated to several great speeches, including from some inspirational young people who rightly feel unfairly affected by our disappearing natural heritage.
Among them was Bella Lack, a 15-year-old environmentalist, and social media influencer.
"I've only ever seen hedgehogs through the rectangular screen of a phone," she said. "I've only heard the chatter of a hen harrier through a muffled video."
"If I squint, If I focus intently on the screen, I can imagine that I'm there and that things are not as bad as they seem. But the reality, it is bleak, it is terrifying. There is not one specific generation that can be blamed for our planet's destruction, but my generation has been handed a decimated world, that is being stripped of its magnificence, that is being stripped of its life."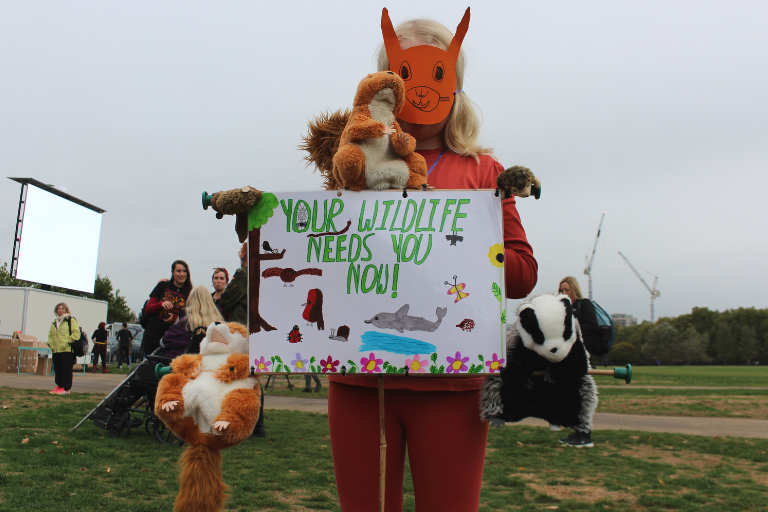 Girl in squirrel costume at People's Walk for Wildlife
Hope for wildlife
The ten thousand solemn and soggy attendees marched through the heart of London to the sound of downloaded birdsong playing on mobile phones, an eerie and powerful reminder of what we have lost. The march culminated at Richmond Terrace, where a final rousing speech by environmental writer George Monbiot called for rewilding Britain's barren uplands, "which could be, and should be, teeming with wildlife."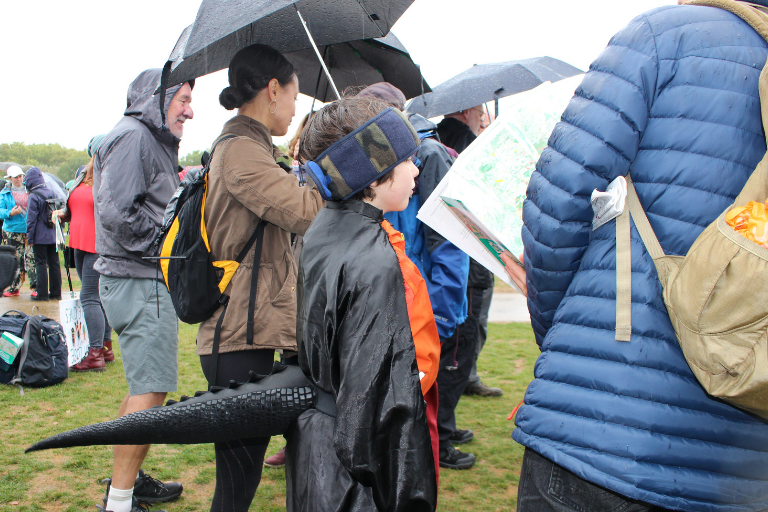 Together with a cortege of passionate young wildlife advocates, Chris Packham handed in his People's Manifesto for Wildlife at Number 10 Downing Street. A hopeful ending to an inspiring day.