Voted Environmentalist of Tomorrow by CNN in 2021, Nyombi Morris is a climate change activist from Uganda. With a mission to educate and inspire young people, he's one of our Choice Ambassadors.
SINCE MY CHILDHOOD,
I have felt the effects of climate change. We had to evacuate our home region in 2009 because of flooding. Growing up, I saw illegal sand mining being carried out in our neighbourhood near Lake Victoria. The sand was profitable for construction, so people would come to mine often. At first, I didn't make the connection between our land being flooded and the sand mining.
Then I saw activist Vanessa Nakate on TV, in front of the parliament, demanding for a climate emergency to be declared. I started researching climate information online. A few months later, I took my first action, standing on the street with a cardboard sign stating: 'School Strike for Climate, #FridaysForFuture'. For me, there was no looking back.
Today I'm a climate justice advocate for the Rise Up movement. Set up in 2019, we provide support for young people from all over the world to join forces and oppose climate change. I've also set up a project – Taking Climate Change to Schools – which includes topics such as climate syllabus, collaboration, planting trees, and recycling plastic waste. Education is critical because many Africans remain ignorant about climate change, and we need future leaders to understand people's needs and develop naturebased solutions. So far, I've planted more than 47,500 trees and visited 30 schools.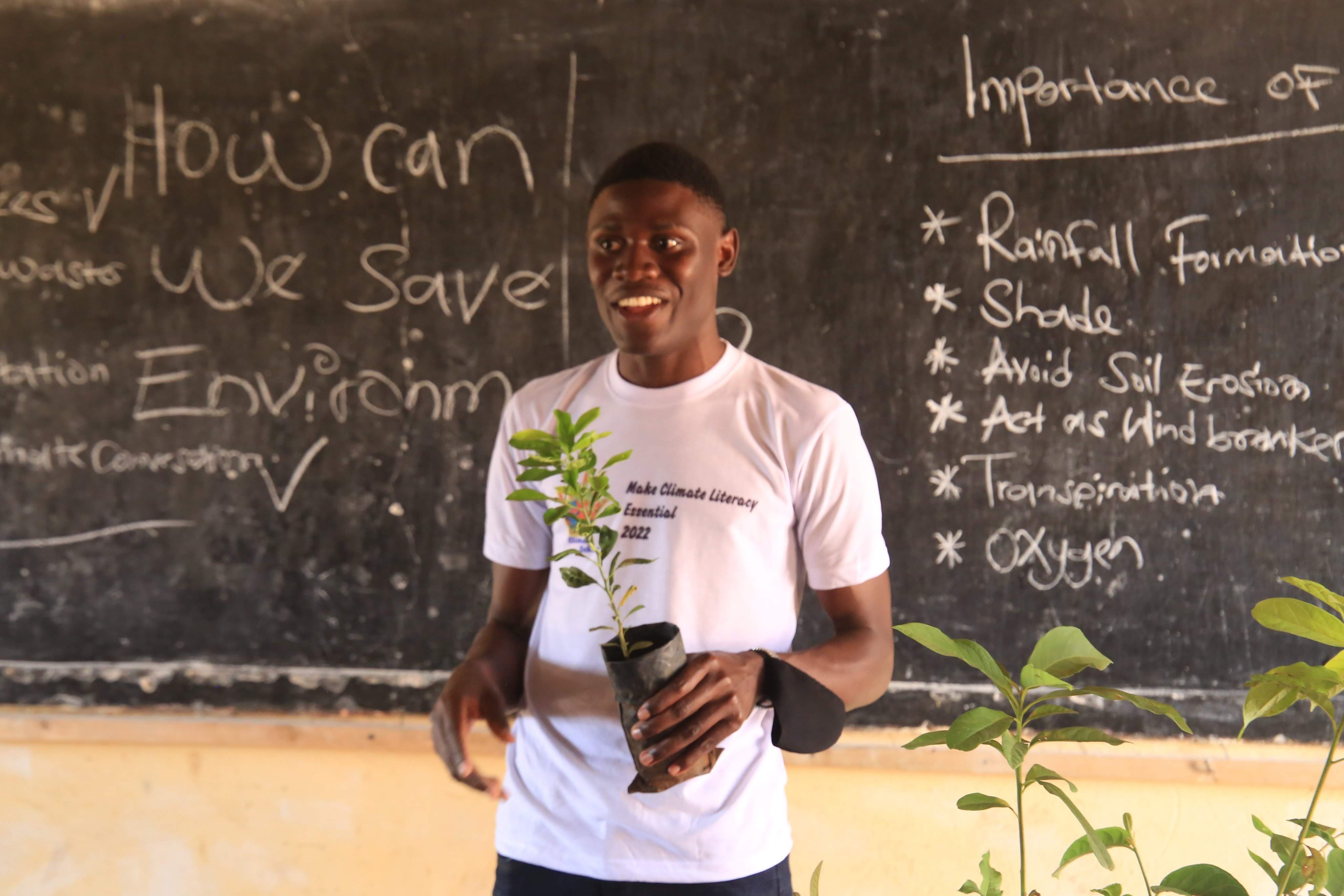 SECRETS AND SHAME
In November 2020, I became aware of friends in the US being mistreated on the issue of supporting abortion. At the same time, we discovered my younger sister was pregnant – the father had vanished, and she'd kept it a secret. A teacher suspected after seeing her behaviour change and took her for a scan. By this stage, she was seven months. I asked her why she kept it to herself. She replied that she was afraid of abortion because it is not allowed in Uganda, and some doctors who do them get arrested.
Thinking about all these things, I decided that I will also use my voice to advocate for women and girls as well as climate change. Government and other institutions should legalise safe abortion to allow women and girls to decide for themselves the right time to have a baby. Women need to be educated so they don't think about motherhood at an early age. We must empower them with the belief that they can do anything without the support of men, that they can be leaders.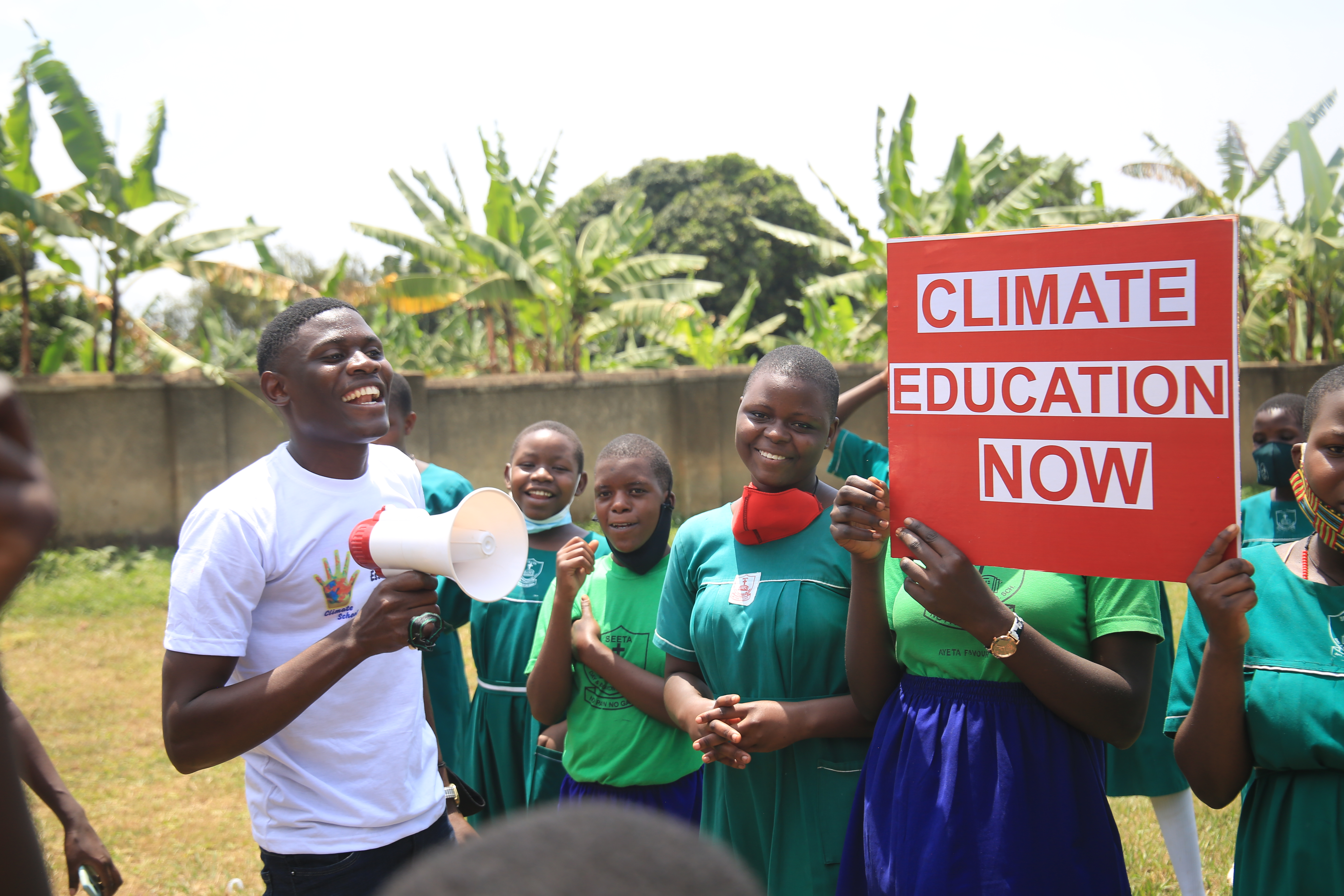 THE CHANCE TO HAVE A CHOICE
Education and empowerment to enable women and girls to make choices about their bodies and how many children they have, and when, is at the heart of the real solution to all the complex issues that feed into climate change. Many countries in Africa are stuck in debt as they keep borrowing to create employment opportunities for all the young people. We have to show all the reasons why countries with stable populations don't suffer as many consequences compared to those with ever-growing populations.
Like many African families, our parents never planned for us. With high populations everything is small, people are forced to build in swamps, people are forced to do illegal mining, people look at everything as a source of income and both humans and nature are exploited. Women are disproportionately affected by climate change, natural disasters, pandemics and wars. Those young girls who are unable to return or go to school, most of them end up with unplanned pregnancies.
After realising the similarities between what I was trying to offer the world and what Population Matters stands for, I became a Choice Ambassador. Population Matters welcomes diverse voices and is inclusive to everyone. Join us and let us all make a difference.
To find out more about Taking Climate Change to Schools, visit gofund.me/e58d4838.
HELP US BUILD A NETWORK OF PM CHOICE AMBASSADORS
The world needs more champions like Nyombi. If you're a young person interested in promoting ethical and practical population solutions, uplifting women and girls, and tackling the environmental crisis, why not become a Choice Ambassador too? Email Florence Blondel at enquiries@populationmatters.org, using the subject line 'Choice Ambassador'. Find out more at populationmatters.org/our-choice-ambassadors.