The first United Nations Water Conference in more than 40 years was held in March, but we were disappointed that the population issue was nowhere to be found on the agenda. We sent a small team from Population Matters to discuss the impact of our human numbers and start the population conversation.
Two billion people still lack safe drinking water in 2023 and half of medical facilities in the Least Developed Countries worldwide lack clean water for hygiene. 2.3 billion people live in "water-stressed" countries, where supply cannot always meet demand. 733 million live in high and critically water-stressed countries. According to a new report, by 2030 humanity will be demanding 40% more water than the Earth can supply.
Yet despite all these facts, the impact of human numbers is still not discussed as a factor in water demand globally. If we are to achieve Sustainable Development Goal 6 (SDG6), Clean water and sanitation for all, by 2030 then population cannot be ignored.
In advance of this year's UN Water Conference, we produced a fully referenced briefing, Achieving SDG6: Water and Population, outlining the relationship between population and water, and recommending specific actions. We also looked at the issues around our water needs and the population factor to flesh out the importance of connecting these two issues.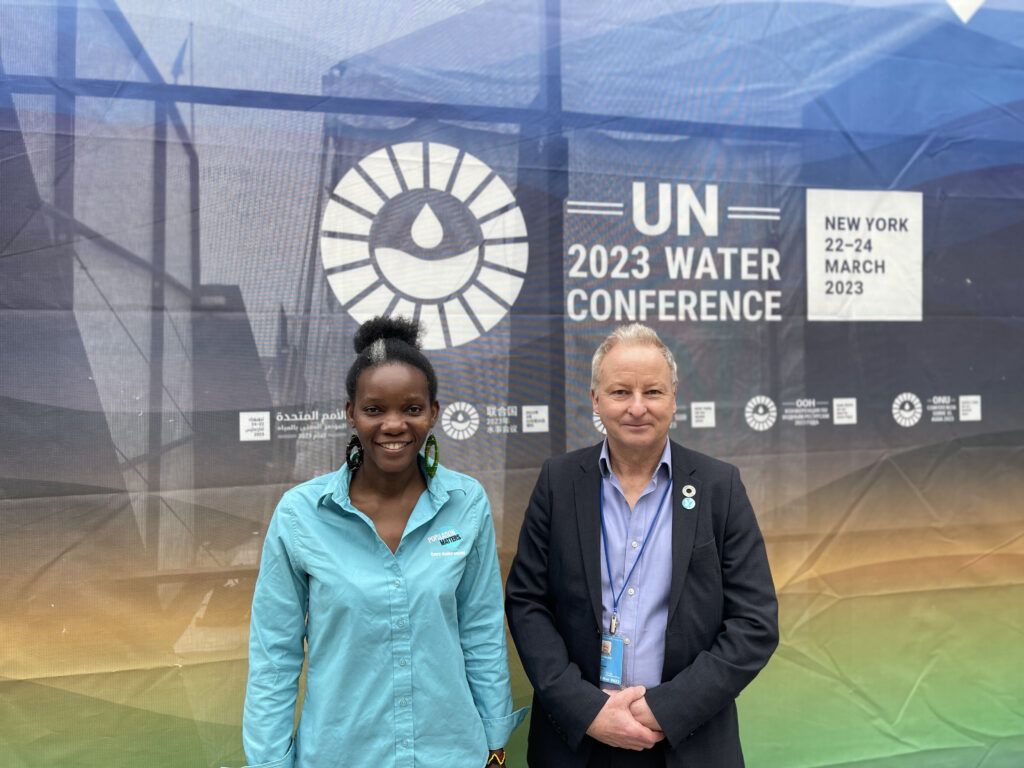 Robin Maynard and Florence Blondel were in attendance to make the case for greater support for ethical, effective population solutions which reduce water demand, help to tackle climate change and empower people and communities – especially women and girls.
Day 1
On the first day, we attended the Accelerating Women's Inclusion in Water session, where frank words were exchanged regarding women's empowerment.
Kitty van der Heijden, the Director General for International Cooperation, Ministry of Foreign Affairs, Netherlands, said that most of us are not angry enough regarding the impediments holding girls and women back. With hands firmly on the table and an impassioned voice she said;
It will take another 300 years for women to be equitably represented. How frustrating is it for women! So many times, your rights are violated. Why is the topic difficult? Do we have the patience for another 300 years?"
In this session, Florence raised the issue of population growth as a barrier to girls and women reaching their full potential, "how can you reach your potential when you are bearing and rearing children year in year out?" No clear answer was given, despite Kitty mentioning the 40% increase in water use expected in 7 years, where the impact will be mainly felt by girls and women.
In another interesting session, Water security, for climate resilience, food security, economic growth, global health, and gender equality, presenters pointed out the dramatic impacts on the lives of women and girls that current crises are causing.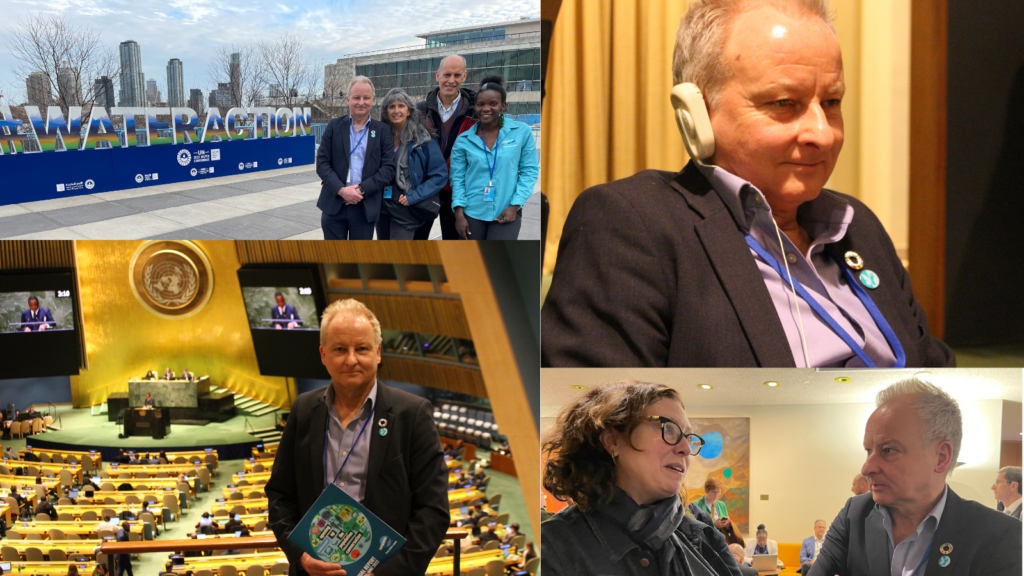 Describing what was happening in Eastern Africa, Michael Dunford, the Regional Director for Eastern Africa UN World Food Programme (WFP), said that in the past 18 months, there were 60 million people acutely food insecure, a number which has shot up to more than 82 million. Due to climate change extremes, the region is facing the worst drought in over 60 years. Rainy seasons no longer bring reliable, sufficient or sustained rainwater which most of the population relies on.
Almost 23 million people are affected by this drought. We estimate that over 1.5 million people have been displaced, over 11 million head of livestock have perished, so livelihood is being wiped out and the way of living, particularly of pastoralists, is on the edge. Contrast that with the situation in South Sudan where they've had four record levels of flooding and over a million people displaced."
Talking about the integration of all actors, Michael recommended that any strategies going forward should put women and girls at the centre.
Day 2
On day 2, by 8 am PM were seated in conference room 8 to attend the How Education Can Shift The Weight of Water From Girls' Shoulders session, organised by Girl Rising, United Nations Department of Economic and Social Affairs (UNDESA) and the permanent mission of Monaco. Girl Rising, like our friends Population Media Center, uses the power of storytelling to change the way the world values girls and their education.
The session contained a diverse range of voices from young activists, discussing how girls' education is a climate solution that saves lives and builds food and water security.
Lotta Tähtinen, the Chief of Outreach and Partnership Branch in the Division for Sustainable Development Goals of UN DESA, acknowledged that;
The world is not making progress fast enough on all SDGs, not in terms of access to water, nor are we making progress fast enough in terms of enhancing equality between genders or on taking action to address the climate crisis or ensuring quality education for all."
We highlighted the importance of promoting empowering population solutions, including modern contraceptive methods. However, it seemed to be an uncomfortable topic (see a summary of this session in the first part of the day 2 video above).
In the integrated Policy Solutions and Commitments for Sustainable Development and the Conservation, Restoration, and Management of Freshwater Biodiversity, session, PM challenged the panellists to address reports like the UN's IPBES, which cites population growth as one of the drivers of biodiversity loss.
Additionally, we attended a few solution-focused sessions on Africa and pointed out that the growing population was a challenge.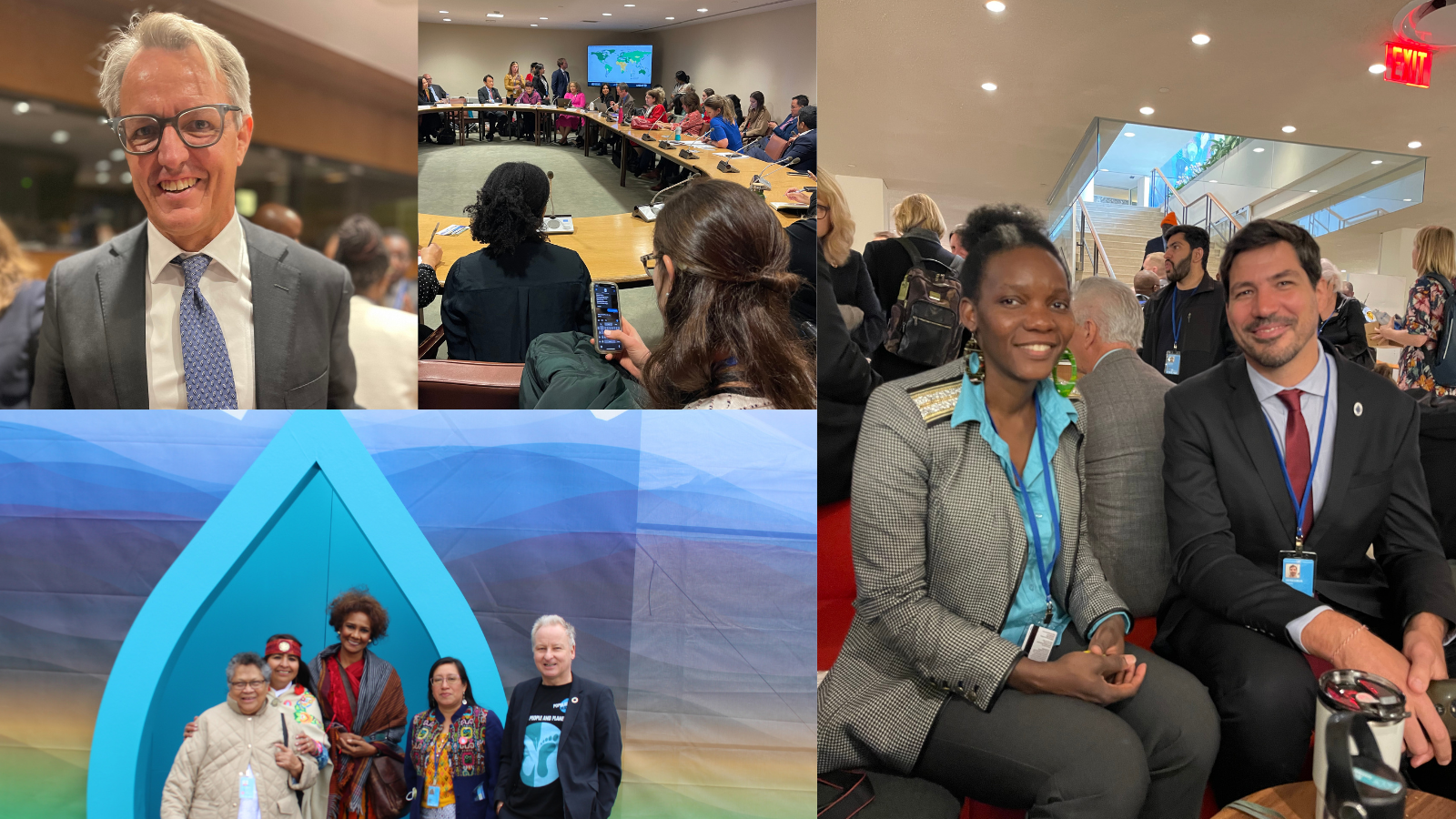 Africa is urbanising fast, with a lot of challenges for cities. African leaders are concerned about the burgeoning population in cities where over 60% of people live in deplorable informal settlements. According to Aklilu Fikresilassie, the Director of Thriving Resilient Cities, WRI Africa, and Representative of the World Resources Institute in Ethiopia, the water supply is not the only problem. Frequent floods have become a menace in most cities.
The solution requires great governance institutions, finding the finance and technical support to implement. Additionally, equity and inclusion are at the centre of our agenda. If you disaggregate the vulnerability data, it will be the women and children, and without including that in the programme, there will be no success in African cities. Who suffers if you are in informal settlements where you don't even have basic services? It's the women. It's the children because informality is the place where you don't have public space, you don't have water and sanitation."
Abera Endeshaw, the Senior Adviser to the Minister in Ethiopia's Ministry of Water and Energy, emphasised that cities are populated and resided by youth in their reproductive years.
The population increment is significantly faster than ever. So there has to be a team to come up with solutions in terms of planning, governance, leadership, and above all, especially in the urban settings, the youth themselves need to be and act as the mayor of their cities. In terms of encouraging and empowering women and girls, that's something that the government is currently working on with issues related to family planning."
Day 3
The third and final day started with a World Bank side event, Empowering Women, Youth and Indigenous Persons to Accelerate Global Water Security in the Water Action, outside the UN building.
According to World Bank Water, "unchecked, the global water crisis will disproportionately affect women and vulnerable groups, including indigenous communities & youth". During the group discussions, Florence and Robin alongside others raised actions that would promote a more inclusive water sector.
We really wanted to make the point that actually enabling all girls universal access to good quality secondary education and also meeting the needs of those 270,000,000 women who currently lack access to a choice over safe family planning was key. And that seemed to go down well with some delegates. But again, some only really wanted to talk about the technical fixes."
See our referenced briefing to learn more about the relationship between population and water