There has been a flurry of pronatal activity in the UK in recent weeks. Those involved seem keen to restore "traditional family values" to the UK and, ultimately, raise the fertility rate. Digital and Communications Manager, Ben Stallworthy, looks at the events, reports, polls, documentaries and individuals involved.
We're only 10 days into November, but already it's been a busy month for those espousing "traditional family values" in the UK, with the same individuals and media outlets involved time and again. These include:
The Alliance for Responsible Citizenship conference,
the report, Migration, Stagnation, or Procreation: Quantifying the Demographic Trilemma,
the event, From Baby Boom to Baby Bust, held by the Centre for Social Justice,
a brand-new poll from the New Social Covenant claiming 92.4% of UK young women hope to become mothers,
the film Birthgap – Childless World, and a rebuttal to the claims made in that film.
The Alliance for Responsible Citizenship
On 30 October, The Alliance for Responsible Citizenship (ARC) held their inaugural conference in London. ARC is a self-styled "international community with a vision for a better world where every citizen can prosper, contribute and flourish". It was founded in June of this year by Canadian psychologist and author Jordan Peterson, former Deputy Prime Minister of Australia John Anderson and British Conservative Peer Baroness Stroud.
A quick glance at Companies House shows the Alliance for Responsible Citizenship Limited includes Paul Marshall as a Director, the same Paul Marshall who is part-owner of GB News and is rumoured to be interested in buying the Daily Telegraph and the Spectator. The limited company was previously known as Prosperity UK, which dates back to 2016.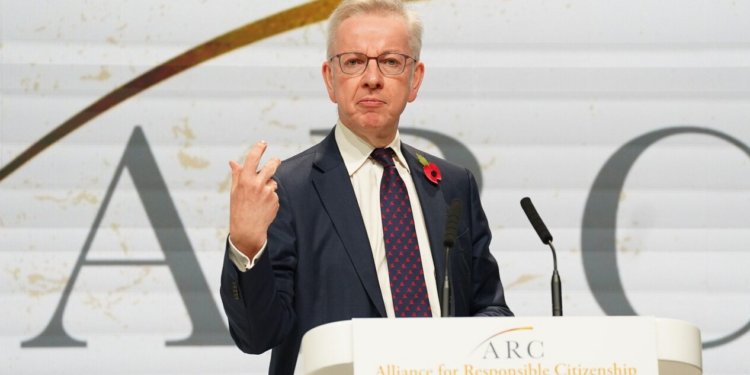 Although the conference received little media attention away from GB News and the Telegraph, some big names were attracted to speak. Jordan Peterson was the main event, but there were also British political heavyweights Michael Gove and Kemi Badenoch.
Additionally, former Speaker of the United States House of Representatives Kevin Mcarthy, current Speaker Mike Johnson and Republican Presidential candidate Vivek Ramaswamy all gave speeches.
The event took place over three days and there were dozens of speakers, but you were never too far away from some combination of the words and phrases "tradition", "truth", "virtue" and "family values".
Miriam Cates MP
Miriam Cates first came to my attention back in May, when she appeared at the National Conservatism Conference. Her speech then focussed on family values, the importance of having children and an apparent decline in appreciation for motherhood in today's society.
Her speech at the ARC conference followed much the same path, warning of the existential threat of declining fertility rates. "If bringing a child into the world is a sign of hope for the future, then in the West that hope is in short supply."
At every level – family, neighbourhood and nation we are increasingly weak and divided. Unless we can find a way to repair our social fabric, the decline will surely be terminal."

Miriam Cates MP – ARC conference
Miriam Cates appears to be a central figure in a pronatal movement currently taking shape in the UK. This perceived eroding of the "social fabric" is evidently something she feels very strongly about, and her being a sitting MP certainly lends a degree of credibility.
Migration, Stagnation, or Procreation
Cates was featured on GB News and wrote in the Telegraph to promote a new research paper published by ARC during the conference. Migration, Stagnation, or Procreation: Quantifying the Demographic Trilemma, suggests there are three options in the UK; economic stagnation, mass immigration or adopting pronatalist policies and having more children.
The paper hits all the hot-button issues for pronatalists: who will pay for your pension in your old age? Where will the economic growth come from? Are we happy that immigration is likely to fundamentally change our society?
In 2022, one of its authors, Paul Morland, proposed taxing the childfree. While promoting the paper on GB News during the ARC conference (in a segment entitled Procreate or Perish: The 'fertility time bomb' facing the West) he extolled the pronatal policies in Poland and Hungary. He did not comment, however, on Poland's drastic abortion restrictions or how Victor Orban has actively stoked the 'Great Replacement' conspiracy theory and promoted large families within the white, Christian, heterosexual population.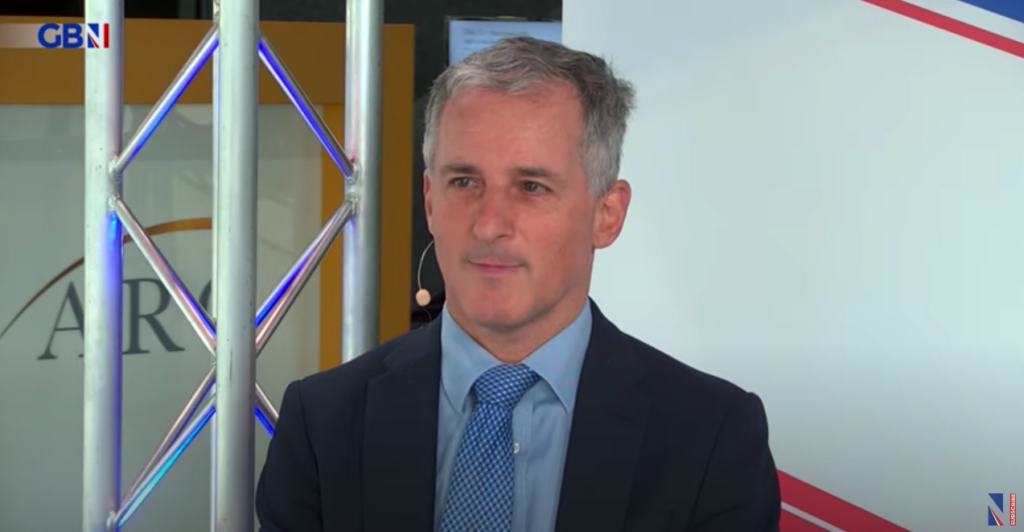 The paper makes some sweeping assumptions, including writing off ageing populations as less "innovative" and "creative". As our Silver Linings, Not Silver Burdens report has detailed, older people are a huge, and largely untapped, economic resource and it is disappointing to see such arguments being rehearsed without any evidence being provided. The report fails to propose any kind of alternative or creative ideas to deal with ageing populations.
The paper also looks back to the 1950s and '60s as a supposedly idyllic time in history for procreation, without recognising why so much has changed, for better or worse, in the intervening 60 years:
The "more children" model turns the country to the kind of normality we still see in much of the world, and which prevailed in the United Kingdom in the 1950s and 1960s. Our challenge is to make it happen in contemporary conditions."

Migration, Stagnation, or Procreation: Quantifying the Demographic Trilemma
As is almost always the case with pronatal advocacy, there is also not a single mention of environmental concerns, the unsustainability of relying on ever more young people to pay for older generations (not least on a nature-depleted island the size of the UK), or alternatives to growth-based economic models.
Baby Bust Blues
Last Monday, 6 November, an event by the centre-right think-tank Centre for Social Justice (CSJ) was held in Parliament titled, From Baby Boom to Baby Bust, discussing the social and economic consequences of falling birthrates. The panel consisted of Miriam Cates, Spectator editor Fraser Nelson, co-author of the above report Philip Pilkington and the American creator of the three-part documentary programme Birthgap – Childless World (see more below) Stephen Shaw. Labour MP Rosie Duffield was due to attend but pulled out.
Sir Ian Duncan Smith was the only MP we know who attended, although that's unsurprising considering he co-founded the CSJ back in 2004. Shaw spoke about his documentary, Pilkington about his report and Cates focussed on some brand-new polling data.
motherhood
A new poll was released in advance of the event in the UK Parliament. It was commissioned by the New Social Covenant Unit (NSCU), a group that stands for "families, communities and the nation – the associations that make people happy, safe and free." Set up in 2021 by Miriam Cates and Danny Kruger, it is explicitly not a think-tank but "exists to share an old-new set of ideas and help British politics pivot towards the great opportunities of the new era we are in."
The poll, focussing on women aged 18-35 is a useful insight onto influences on childbearing and desired family size in the UK, but the actual results provide a more nuanced picture than the headlines chosen by NSCU. That includes the claim that 92.4% of UK young women hope to become mothers.
After digging into the raw data, it seems this ratio is garnered from all those who already had children or answered one or more to the question; "In a hypothetical world in which there were no barriers at all to having children (such as considerations around a partner, money, health, or difficult career choices), how many do you think you would wish to have, or to have had?" However, when asked whether they "hoped" to have children, 12% said definitely not and 14% probably not.
The poll makes for an interesting comparison with the poll on family size conducted by Population Matters in 2021. Broadly, the two tend to be in general agreement about family size, with two children as the most popular choice. Our poll also investigated questions of stigma attached to being childfree or having a small family, not addressed by NCSU. It found that more than half of 18-35 year-old women polled who have chosen to be childfree feel they have been judged negatively for their choice.
Something that NSCU chose not to publicise from their poll was that 41% of childfree women identified concerns about "the impact of more humans on the environment" as a factor in their decision. Our own poll found that 31% of 18-24 year-olds (both sexes) said concern around the environmental effects of having children, such as the climate emissions they may produce, made them want to have fewer or no children: for 25-34 year-olds the figure was 24%.
Birthgap – Childless World
The above-mentioned Stephen Shaw is the writer and director of the three-part film, Birthgap – Childless World. The film asks; "Why have birthrates been falling at different rates across the industrialized world since the 1970s?"
In his article for The Spectator in October, Stephen Shaw wrote; "In the UK last year, 900,000 adults celebrated their 50th birthday, while only 700,000 births were recorded – a 23 per cent deficit or 'birthgap'. France has a similar figure of 24 per cent, putting these nations at the better end of the scale. Germany's is 35 per cent, meaning that for every three future retirees, there will be only two new-hires available to enter the workforce."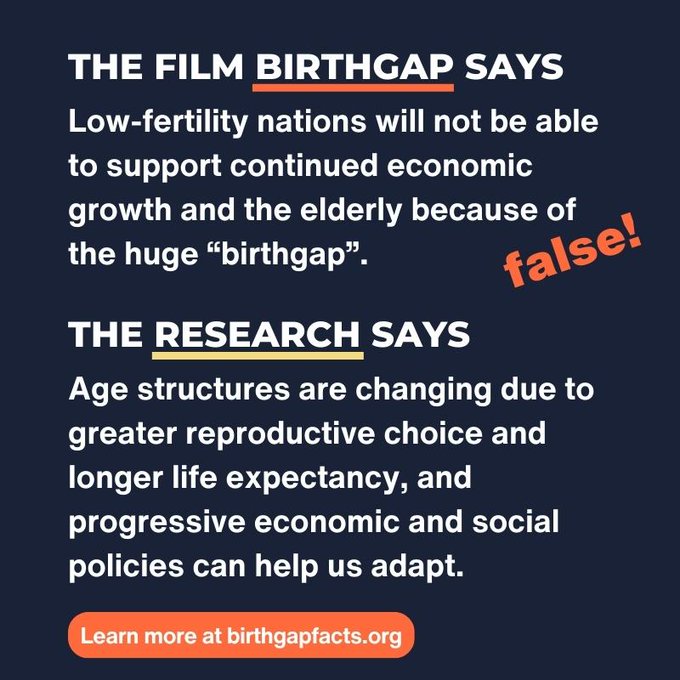 Shaw tries to present a simple equation with an obvious answer, while also maligning those who work on population issues; "…there are some people who are gleeful at the precipitous declining birth rates – the pied pipers of anti-natalism and ideologists of various persuasions who still preach about over-population during this time of rapidly falling birth rates. The reality is that we no longer need to be concerned about growth in the total global headcount."
But, of course, it's more complicated than Shaw would like you to think. The website Birthgap Facts, which Population Matters contributed towards, refutes the premise of Shaw's film and debunks the claims made in it.
The term "birthgap" has no specific meaning or significance among demographers. Age structures are changing due to positive trends towards greater gender equality and longer life expectancy. Necessary adjustments to our economy are needed to adapt to these changes and can be accomplished through progressive policies that strengthen social safety nets and integrate seniors into meaningful roles in society."

Birthgap Facts
Birthgap Facts was co-authored by Nandita Bajaj, Executive Director, Population Balance and Robert Engelman, Senior Fellow, Population Institute. It is a comprehensive, fact-based critique of Shaw's film that, "shows that fertility rates are declining because women are choosing to have fewer children due to greater reproductive autonomy."
The bottom line
It is certainly the case that there are obstacles in the way of parenthood for some people. Where childcare costs are prohibitive or negative impacts on a woman's career, policy to address the underlying drivers are obviously essential.
But that is not the same thing as encouraging people to have three, four, five children. As we reported earlier this year, that is something former cabinet minister Jacob Rees-Mogg was advocating when he said, "I've done my part by having six children, now you do yours". He was speaking on his weekly show on GB News.
We also shouldn't lose sight of the fact that, in 2023 in the UK, people are able to make that choice, a right that has been achieved through hard-fought battles, could be easily lost and is not afforded to millions of women around the globe. We must ensure pronatalists don't use this momentum to further their own agenda while removing women's reproductive rights along the way. These rights are forever precarious and can be snatched away, as we've seen around the world in places like Poland, China and the USA.