If – like me – you can see Christmas coming into view, this post is for you!
With the festive season twinkling on the horizon, our thoughts turn to what is, for many, 'the most wonderful time of the year'. For charities, the Christmas period is often the busiest time for donations and, here at Population Matters, we are no different. Christmas is our most active time to receive individual gifts and we would like to encourage and thank you for considering us in your Christmas giving this year.
A time for giving…
Please save the date, as for one week only from Tuesday 28 November, Population Matters will once again take part in The Big Give Christmas Challenge. When you donate via The Big Give, the value of your donation will be DOUBLED through match-funding! We have a pledge pot of £10,000 and hope to double this to £20,000 – please help us by donating via The Big Give during Christmas Challenge week.

A time for sharing…
There is a lot we can all do to support Population Matters this autumn and winter. You can help us raise awareness by following and interacting with our social media on Twitter/X, Facebook and Instagram. Population Matters has also recently joined TikTok and we continue to share video content on YouTube – all well worth a visit for our latest news. Every post you share amplifies our message.
Population Matters also campaigns for those of us who have enough to consume more sustainably. Reducing personal consumption is something we can all keep in mind during the busiest shopping season of the year. Keep sustainability in mind when choosing gifts this Christmas and look out for news as our campaigns team will be updating our 'We Don't Buy It!' campaign around the – now infamous – Black Friday sales events.
From groceries to gifts, raise money without cost to you…
Of course, buying gifts can't always be avoided entirely, so if you do have things to purchase, did you know that you can raise funds for Population Matters without any cost to you? Through affiliate fundraising partners EasyFundraising and GiveAsYouLive, you can donate as you shop. Discover how affiliate fundraising works and help us as you do your online Christmas shopping. Need help signing up? Please drop me a line.

More than a gift
If you do want to support Population Matters more directly, why not introduce a friend to Population Matters by purchasing a gift membership for £30? Gift memberships include an informative welcome pack and gift membership certificate which we can send directly to the recipient or to you to give in person.
Or how about gifting our 100% organic cotton clothing? We have Population Matters winter hoodies, colourful t-shirts, tote bags, and more. These make great presents! Or why not send a Population Matters charity Christmas card? One of our amazing supporters designed the 'Only One Earth' card and will be selling them to raise awareness and funds for us this year.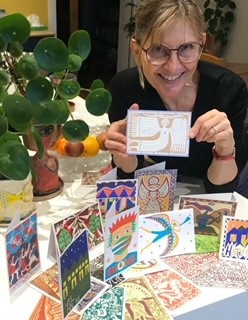 Community fundraising at Christmas…
If you are feeling artistic or crafty, perhaps you could make or sell festive items to help raise funds for us? You could attend a craft fair and even distribute some campaign materials at your stall. If you are taking part in a New Year's Day swim or Christmas fun run or 'Santa dash', please think about raising sponsorship by setting up a personal fundraising page with us.

New year, new you?
Will 2024 be the year that you scratch that itch and complete the fundraising challenge you've been thinking about? Perhaps you're planning to improve your fitness in a sponsored challenge? Maybe you're participating in Dry January and think you could support Population Matters through sponsorship? The Christmas break and New Year is the perfect time to make plans – I'm here to offer any help I can so please do drop me a line or call for a chat.
Thank you for taking the time to read this blog. May I close by wishing you all a happy and healthy festive season!