Today, 15 May 2023, marks six months since the symbolic day we passed 8 billion humans on the planet, in which time we've added over 35 million people to the world population. It was obviously a significant occasion and a busy time for Population Matters, but we've certainly not been resting on our laurels since then. Here's a run-down of what we've been up to over the last six months.
When looking at population, it's often easy to get bogged down in numbers and statistics, which are essential and have their place. But it's important to continuously shine a spotlight on those people behind the numbers, the stories, choices and opportunities to change. That's why we have just launched our We Are Kindred Spring Appeal.

People are amazing, and that's why we're asking you to help Population Matters realise a future where every girl, every woman, every person has the power to choose. You'll be helping us carry on our essential work holding power to account, contradicting false narratives and raising the voices of those that need to be heard.
Here's a flavour of the last six months at Population Matters, and the kind of work you'll be contributing to if you choose to support us.
November Rain
In mid-November, we had a small team of people in Thailand attending the International Conference on Family Planning (ICFP). It was an intensive four days of networking, speaking and attending various meetings, but we made some invaluable contacts. These included Sani Ayouba, the director of a local youth climate activism branch in Niger, and Laraib Abid, a family planning leader in Pakistan, both of whom have since written guest blogs for us detailing the specific challenges they face in their respective countries.
On Black Friday, 25 November, otherwise known as "Buy Nothing Day", our Head of Campaigns, Alistair Currie, was on Regents Street in London with some members of the London Supporter Group to oppose Apple's unsustainable practices. They held a 6-ft "smartphone" with the message "Upgrade your home and not your phone" and engaged passersby in conversation and handed out literature about our unsustainable consumption of the earth's resources.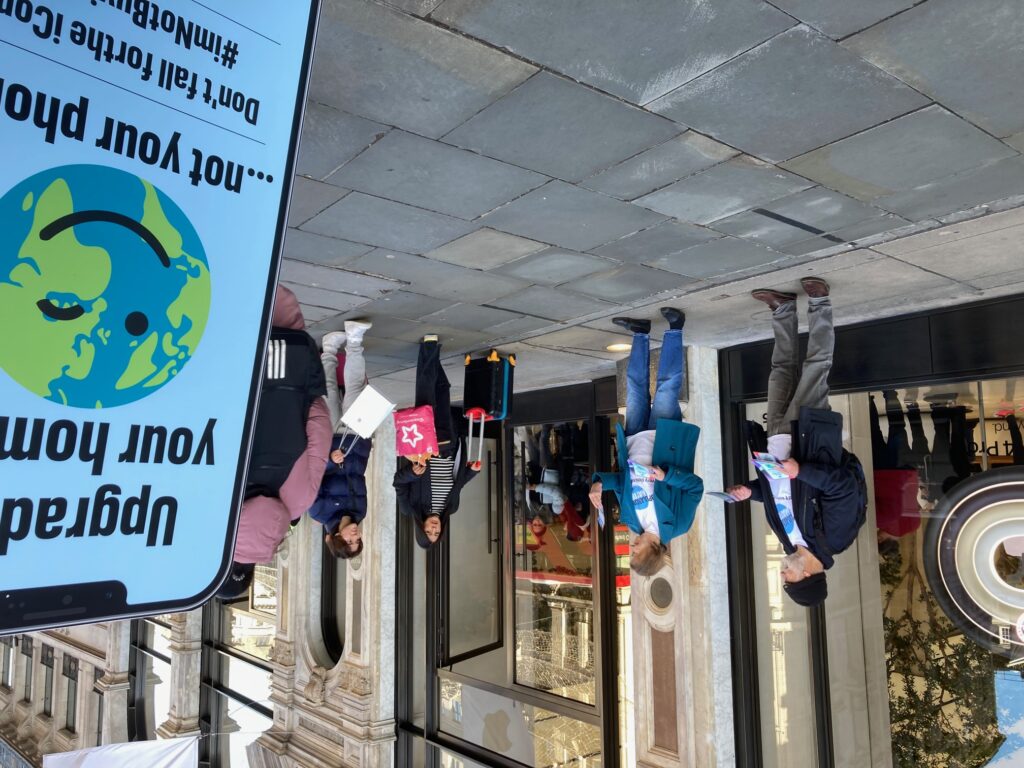 Holidays and A New Year
December is a notoriously quiet month (in our world), but we featured content from Clinical Psychologist Dr Vikki Barnes, who explored the science behind why it feels good to shop and how we can feel good without consuming (an important message leading into the festive season).
We also took the time to analyse the Global Biodiversity Framework that had finally been signed in December. Our key takeaways were:
If – and it's a very big if – governments should truly commit to the actions and targets set out in the GBF, it will undoubtedly be more successful than the process which preceded it. However, it is difficult to see how this or any biodiversity framework can achieve its goals when it fails to take meaningful action on the two biggest underlying drivers of biodiversity loss – consumption and population.
Talking population at international events
We attended two UN conferences in the Spring, one that had a population focus and one that very much did not.
The first UN Water Conference in more than 40 years was held in March, but we were disappointed that the population issue was nowhere to be found on the agenda. We went in armed with a new briefing linking population growth to the world's water crisis and managed to engage some important people.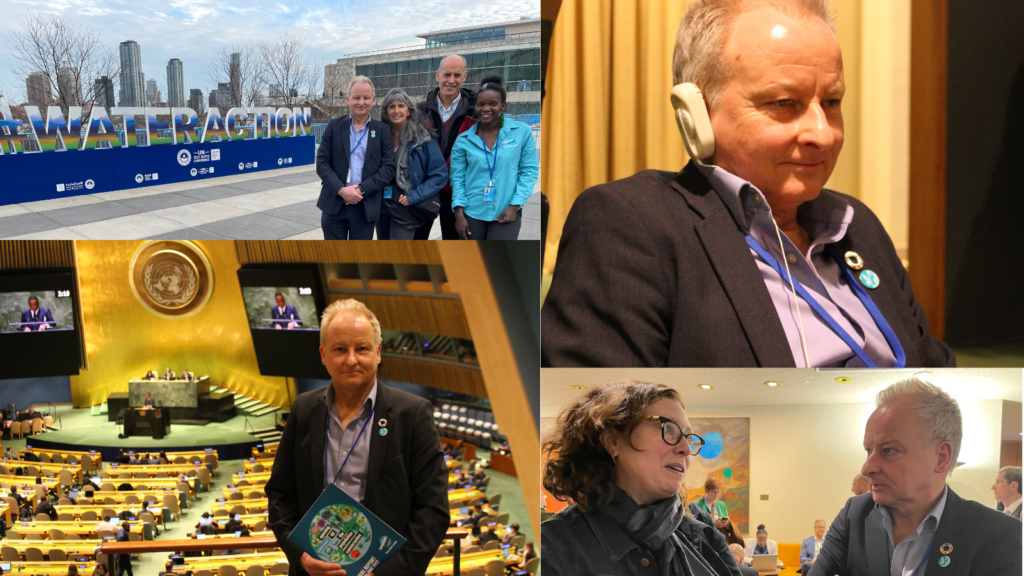 We then attended the UN's Commission for Population and Development session for the first time ever 'to discuss the vital impact that investing in quality education has on promoting opportunity and prosperity, advancing gender equality and ensuring environmental sustainability'. The undoubted highlight was our own Florence Blondel having the opportunity to formally address the meeting for three minutes on behalf of PM. Her statement described our work and principles, and outlined the value of education in addressing population and environmental challenges.
Back in the UK, we were represented by our fantastic London Group at "The Big One", a climate protest that took place over four days in April. We're grateful to the London Group for making their voices heard among the 60,000 people in attendance (where Alistair somehow bumped into PM patron Chris Packham amongst the throngs of people!).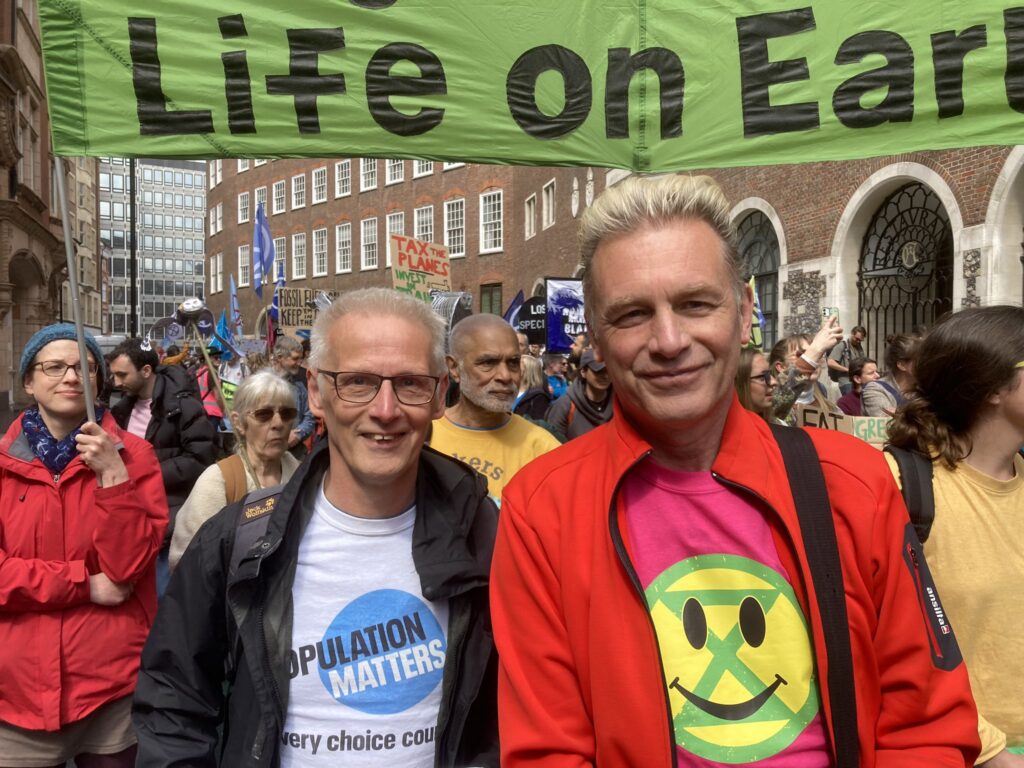 A new report
In April, we published a brand-new 28-page report as part of our We Don't Buy It campaign. iCon: Apple, consumption and the future of the planet examines the evidence that excessive consumption is driving climate change, extinctions and exhaustion of resources. It goes on to detail how Apple persuades customers to buy more than one million iPhones every two days, and what the true environmental cost of production, marketing, distribution and, eventually, waste on such a scale is.
As part of the campaign, we ask that our supporters also take action, by taking our consumption pledge or emailing Apple CEO Tim Cook to demand that Apple commit to genuinely sustainable practices.
Content is King
Aside from everything mentioned above, we have researched and written stories or commentary on a whole raft of issues in the past six months, including (but not limited to):
In addition to the pieces mentioned above by Sani Ayouba, Laraib Abid and Dr Vikki Barnes, we've also featured a number of guest posts from people working around the globe, including:
We encourage you to look at our news page for every post published on our website.
The media and some new faces
Around 8 billion day, we put a lot of focus on getting our name and message into the media, and we had a lot of success with 273 global media mentions and a number of slots on radio and TV. But we continue to receive media coverage (you can see a list of selected stories featuring PM here) and successfully worked with our patron, Chris Packham, to secure him an op-ed piece in the New Scientist (unfortunately behind a paywall, but available here for subscribers).
PM is also called upon to give its expertise at times, being one of the few voices speaking about population issues. Robin was interviewed as part of a touching documentary by Nastaran Rahnama called Space to Live (you can watch it on YouTube here). He also recently participated in a conversation on population with the Climate Emergency Forum (on YouTube here).
In April, we welcomed two new faces to the PM team. Shweta Shirodkar has joined as the new Empower to Plan coordinator, overseeing our relationships with grassroots partners around the world seeking to empower women. We also welcomed Abimbola Junaid as Partnerships, Advocacy and Voice Manager. Her job in this brand new role will be to develop relationships with our amazing partners across the world and to forge new networks and freindships, finding ways to work together to accelerate progess on our shared goals. Click here to meet the whole Population Matters team.
What's on the horizon?
We are currently hard at work planning for World Population Day, which is just two months away on Tuesday 11 July. We will be hosting an education-focused webinar (details to follow in the coming weeks) and announcing a new class of Change Champions. If you would like to order something from our brand-new campaign materials shop to help spread the population conversation, on World Population Day or any other, take a look here!
{"title":"We ARe Kindred","appealText":"Please consider supporting our work today!","amountConfiguration":{"Once":{"label":"","amounts":"10,25,75,200","contributionPage":"79"},"Monthly":{"label":"","amounts":"","contributionPage":""},"Annual":{"label":"","amounts":"","contributionPage":""}},"footerText":"All donations to this appeal support our core costs and campaigns.","amountLabel":"","frequencyLabel":"","defaultFrequency":"Once","validateOtherAmount":false,"buttonText":"","contact_id":null,"mode":"frontend","app_name":"wp-block-popmat-fundraising-app-1041308149"}
{"contributionPage":"79","campaign":"","app_name":"wp-block-popmat-totaliser-3000597411"}